Giving More People in Northeast Indiana a Reason to Smile
Dale Bland is a factory assembler who needed a root canal for more than a year. But without insurance, he couldn't afford it.
Juanita Gray's decaying tooth throbbed for weeks. It had to be pulled, she says, but the co-pays in her insurance plan were too much for the housekeeping wages she was earning at a local hospital.
For nearly two years, Linda Hayden couldn't chew. She says she lost her dentures during the move to a transitional housing shelter. Her disability check couldn't cover replacement costs.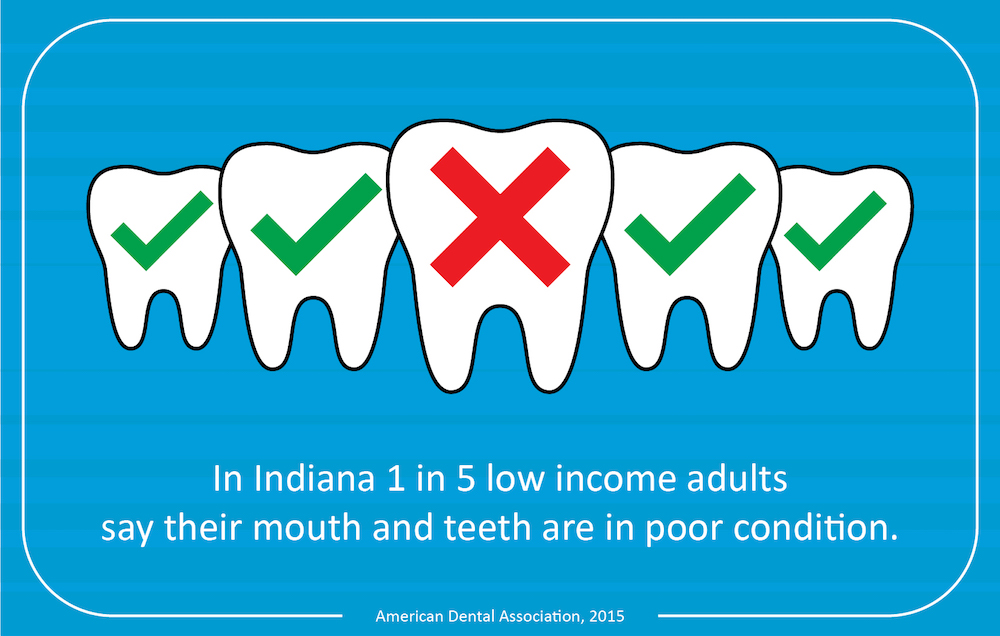 If not for financial support from the St. Joseph Community Health Foundation and other sources, these stories might have ended there. But the St. Joe Foundation has invested more than $1.7 million in the past 20 years to enable local non-profit dental professionals to rewrite painful endings for people with insufficient dental coverage or no insurance at all.


A major beneficiary of these dollars has been the Matthew 25 Health and Dental Clinic, which provided more than 5,700 dental services ranging from crowns to cleanings to area adults last year. The clinic now serves more than 1,500 unique dental patients annually.
This year, the St. Joe Foundation also funded the two-day Indiana Dental Association's Mission of Mercy (MOM) event in Fort Wayne. MOM has provided another important link to making dental care accessible in northeast Indiana by providing care to more than 1,000 people.
Meg Distler, executive director of the St. Joe Foundation, explains that research reveals at least one-third of the adults in the area failed to receive oral healthcare within the past twelve months; and those who are low income are very vulnerable to oral health issues and lack dental insurance. Local professionals are working to address these issues.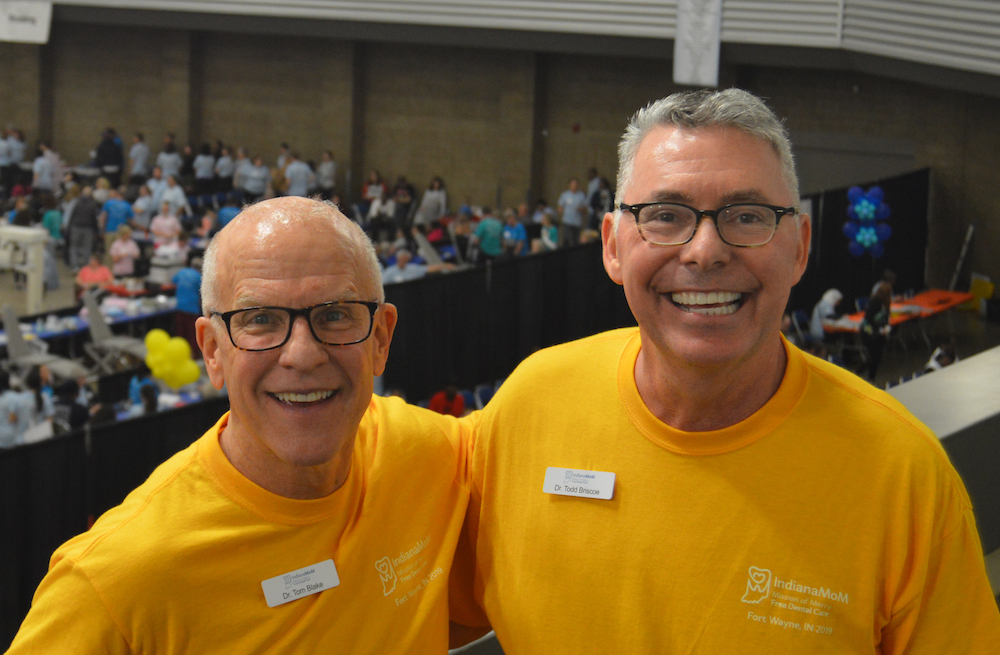 "Strong leadership from dentists like Dr. Roger Valliere at Matthew 25, Dr. Tyler Kimmel at Neighborhood Health Clinic, and Drs. Todd Briscoe and Tom Blake, who stepped up as the volunteer chairs of the Indiana Dental Association's Mission of Mercy, are putting a lot of million-dollar smiles on many local faces," Distler says. "We are honored to support their work. They are inspiring other professionals in the community to also volunteer and join in."
Here's how the St. Joe Foundation's funding is working behind-the-scenes to improve access to dental care in northeast Indiana.
***
Bland and Gray were among 1,042 people who swarmed the Allen County War Memorial Coliseum in Fort Wayne where the 2019 MOM took place in May. More than 950 volunteers, including local dentists and other professionals, performed services worth $927,000, according to the Indiana Dental Association.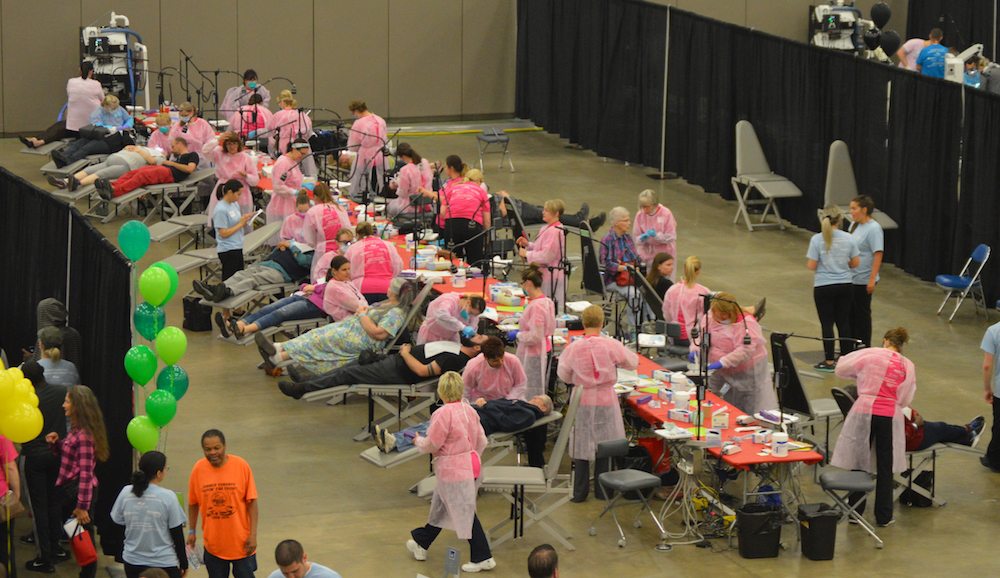 Patients traveled across Indiana and neighboring states to receive treatment. Some were unemployed, while others had jobs and health insurance, but lacked dental plans or couldn't afford the required co-pays.
This event illustrated local efforts to make dentistry more accessible in Allen County. Dr. Roger Valliere, the dental director for Matthew 25 and past chair of the local Isaac Knapp Dental Association, is among advocates striving to tear down economic barriers to healthcare.
Dental health is crucial, he says, because it affects more than a person's teeth. A new smile or relief from a severe toothache can give people more confidence in a job interview, or the will to socialize with others, he says.
The impact is clear in clients' responses, too.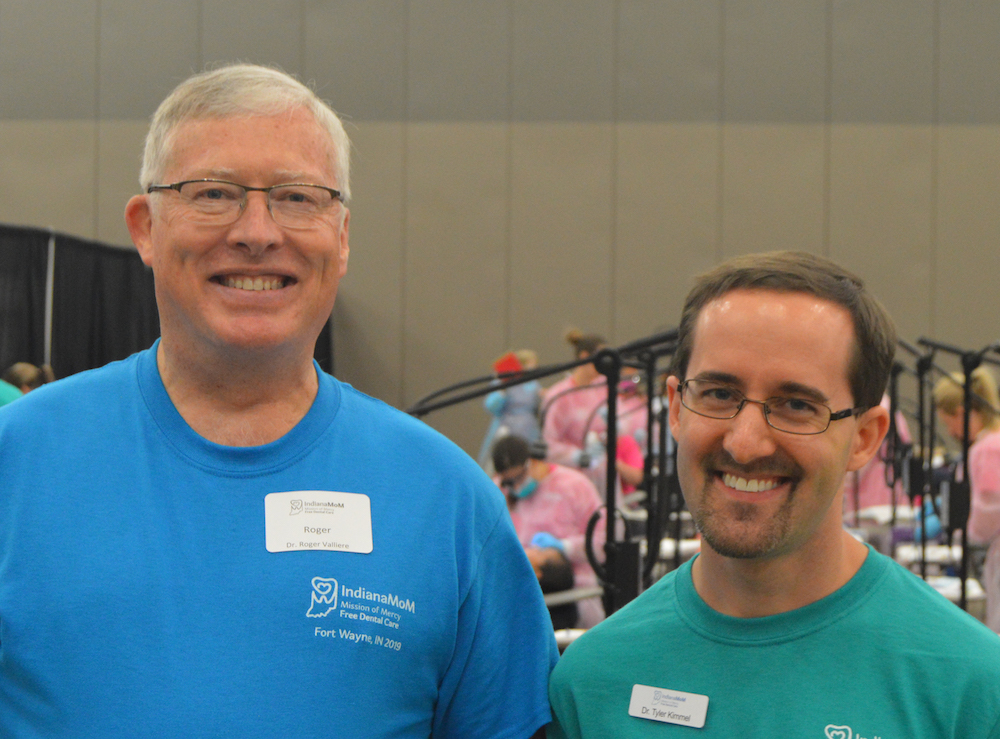 "I can't tell you how many times patients want to give us hugs and thanks," Valliere says.
That same spirit of gratefulness was on display at Indiana MOM, where Valliere volunteered alongside Dr. Todd Briscoe and many others. Also a Fort Wayne dentist, Briscoe served as co-chair for the 2019 Indiana MOM, spending countless hours preparing for the charitable service.
The Indiana Dental Association Foundation for Dental Health hosted the event in Indianapolis in 2015 and 2017. When considering a 2019 location, Briscoe wanted to bring the opportunity to northeast Indiana.
"We need to serve all of Indiana, not just Indianapolis," he explains. "I've practiced in Fort Wayne for 30 years, and I feel like there's a need. This is my community."
***
Free MOM dental clinics occur nationwide and have helped more than 222,000 people since 2000, according to the website IndianaMom.org. Beyond providing care onsite, another goal of the event is to steer patients to a "dental home" where they can get steady care and maintenance year-round, Briscoe explains.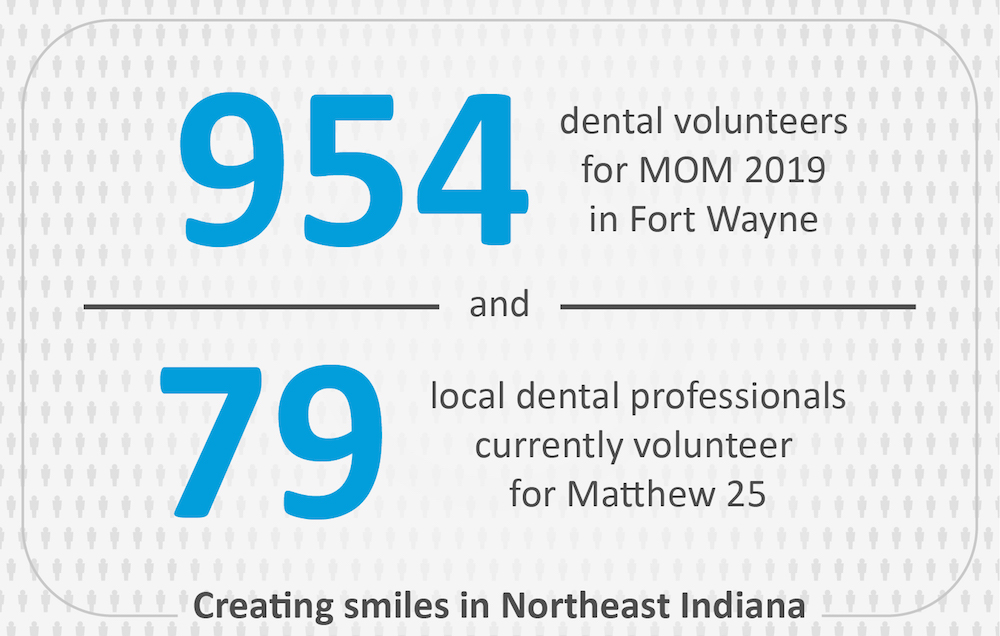 In Allen County, adults who lack insurance and can't afford dental care have options when MOM isn't available. One option is Neighborhood Health Clinics, which offers a sliding fee discount to those who meet income guidelines and may not have met their insurance deductible, those whose insurance does not cover the service provided, and those who don't have insurance. More than 8,700 patients received care there in 2018 from a team of dental professionals lead by Dr. Tyler Kimmel.
Another option is Matthew 25, where Valliere and his staff provide free services to those who are uninsured and ineligible for Medicaid or Medicare. Staff and more than 50 area dental professionals volunteer to offer teeth cleanings and an array of other services to stand in the gap as the dental home for those in need.
Hayden, 60, who misplaced her dentures between losing her home and moving into transitional housing, was among those with limited choices.
For about two years, she survived on soft foods, such as oatmeal. She had been a "people person," she recalls, but since losing her teeth, she has stayed inside a lot to avoid situations that forced her to open her mouth.
"It was embarrassing," she explains.
Then she heard about Matthew 25 earlier this year. After several visits, she walked away with a new set of dentures and recently enjoyed taco night."It's made me a lot happier," she says. "I smile a lot more. It's changed my life, really."